Source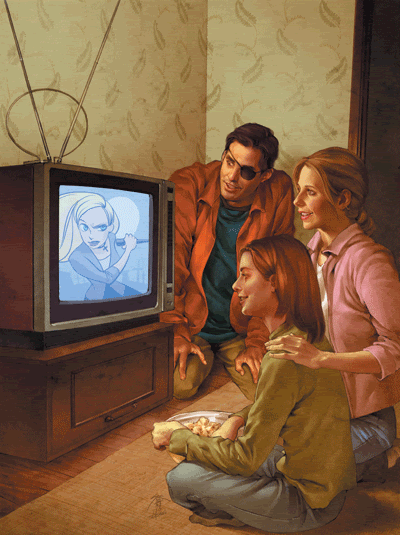 Scott Allie, Editor
A Day in the Life of a Buffy Editor
Updated 6/4/2008

What's an average day of editing Buffy look like?

It's a scramble. Doing any monthly comic is a challenge, and right now this one is sort of crazy. Buffy #15 just hit stores, wrapping up a great run by Drew Goddard and Georges, with covers by Jon Foster. But that's a dim memory for us in the day-to-day, second-to-second world of getting the next handful of issues out. For me, Jon and Drew left the book ages ago, and Georges has been vacationing in the Bahamas for weeks. Buffy #16, drawn by Karl Moline, is long done. I barely remember what happened in that one. Now that I think of it, some big things happened, actually, and I better not spill them here.

This week we're wrapping up Buffy #17--Michelle Madsen is coloring it, so I'm fielding questions from her about costuming and time of day. Sierra Hahn, who was recently promoted from Assistant Editor to Associate Editor, was out sick today, after I was out sick the last three days. So the core of Buffy editorial has not been face to face in a week, and in that time there's been just one brief phone call with Joss. Before leaving yesterday, Sierra had left the balloon placements for Buffy #17 on her desk, and today she e-mailed from her sickbed to ask me to go over them. Balloon placements are the thing that the editor usually does--or sometimes the writer, or in some cases the artist--to show the letterer where the balloons and captions and sound effects are meant to go on the artwork. I went over Sierra's placements, made some changes, and made some indications for Comicraft to be sure to follow the styles of balloons used for Harth and Gunther, from the original Fray series--which was lettered, ironically, by our now-colorist, Michelle. Sierra will get these to Comicraft tomorrow.

So this week, while Michelle and Comicraft race to wrap up Buffy #17, Karl is struggling his way through #18. He's about nine pages through it. We just got another four pages of layouts from him today, and he's waiting on notes on the roughs. The man we're waiting for is Joss--who's currently swamped with getting Dollhouse, his TV show, rolling. Besides getting the new show going, he's also working on getting the next batch of pages of script in before Karl needs them. I missed a call from Joss today. Calls from Joss are short and sweet these days, as he's always on set--and I do mean always--and so missing a call, missing the little bit of info I was hoping to get, is a big blow. Hopefully tomorrow.

Georges is no longer on vacation. He sort of was, after he finished the last issue before Karl's run, but it was brief, and now he's back in the thick of it, tackling the script for Buffy #21, by Jane Espenson. It's a shame Jane's work on the comic is over for now. Jane is a powerhouse. Jane makes everything look easy. I wish Jane drew comics. But she only had this one issue to write, and now she's back to her gig as Co-executive Producer on Battlestar Galactica. And they are lucky to have her. While we were waiting for layouts from Georges on Buffy #21, he banged out the variant cover to Buffy #20--an issue written by Jeph Loeb. He finished that cover last week, and gave it to his studio mate, Dexter Vines, who has been inking Georges's Buffy covers since about the beginning. Today Dexter told me that he's slammed with another deadline, and so the Buffy #20 cover is sitting on his desk until next week. A small obstacle.

We just got Jo Chen's cover for Buffy #20, a gorgeous homage to Rockwell. If you're counting, that means that while Jon Foster's last cover has only just come out, Jo's done the next five, well before a single one of them hits the shelves. That's how far out we have to work. It's sort of stupid.

Buffy #20, the issue by Loeb, isn't even written yet. We have a cover and a half, but no script. This is not ideal. But it's because we're currently waiting on approval for the interior artist, a guest artist that Jeph is bringing in. The artist has never drawn the cast members before, so he's had to do some sample drawings, which are currently in the hands of Sarah Michelle Gellar's reps. They ultimately get to decide who draws Buffy and who does not. I'm withholding this artist's name for now, because if they shoot him down, boy, is that awkward for me. Believe me--been there before. Georges will draw part of the issue, but because we're not 100% sure that our new artist will be approved, Jeph is holding out on writing the script; he tailors his scripts for whoever's drawing them, and so wants to hold off until we know for sure. This is giving me fits, but I know it's for the good of the story. A phone call and an e-mail to Fox today surprisingly did not conjure up an approval; three of the four reps we need to hear from were on vacation last week, so they only saw the sample drawings today. We should have an answer tomorrow. Fingers crossed. In the meantime, Georges is drawing Buffy #21 before #20. Whatever gets it done, right?

All right, so maybe this isn't an average day of editing Buffy, but how did it end? Some four hundred pages of proofs for Buffy Omnibus Volume 5 came crashing onto my desk. I started to pour over it before remembering that I'd given this book to Sierra, one of her first solo editing gigs before the promotion to Associate Editor. I looked at the Due to Production date on the approval slip, and it was tomorrow's date. An eternity for an editor. I walked it across the hall, dropped it on Sierra's desk, and headed home.

To write an editorial about Buffy.